Long gone are the days of hotels Game Rooms with arcade machines as to-day's youngest guests are accustomed to technology that has moved beyond what many hotels are offering in terms of on-site entertainment.
However, there are still some older games that engage guests of all ages. We feel hotels are vibrant places of intercultural exchange where guests of different nationalities and the local mingle with one another to share their individual perceptions and traditions.
With this belief, we are tailoring new experience to guests' needs, by providing an environment for people to connect to one another in an unconventional and spontaneous way and also affording stimulating social time, especially for solo business traveler who might otherwise stay shut.
As we believe, games are powerful mean for social interaction and having recognized the needs for a Game Room, here at Westone Manor, this is exactly what we have created. The hotel boasts a Game room which is a few steps away from the lobby bar & Cafe to invite lingering over a cocktail or coffee. The aim is not only to provide entertainment and socialization but also to foster community spirit. It is successful as an operation and it is also successful as a great amenity to the hotel guests. For this reason and to provide more space for relaxation we turned the restaurant into a Game Room for all ages.
For the more energetic, you could perfect your skills on one of our Pool tables and Air Hockey table. If you are over 18 you could try your luck, spin and win on the fruit machines and to those under, game machines are available. The fruit machines are regularly changed and updated just to keep the guests on the toes. There are snack machines to replenish the energy loss.
But don't worry. Even if you do not fancy playing the games, the hotel has fully fledged restaurants serving delicious food during opening hours which you may find more compelling than the games.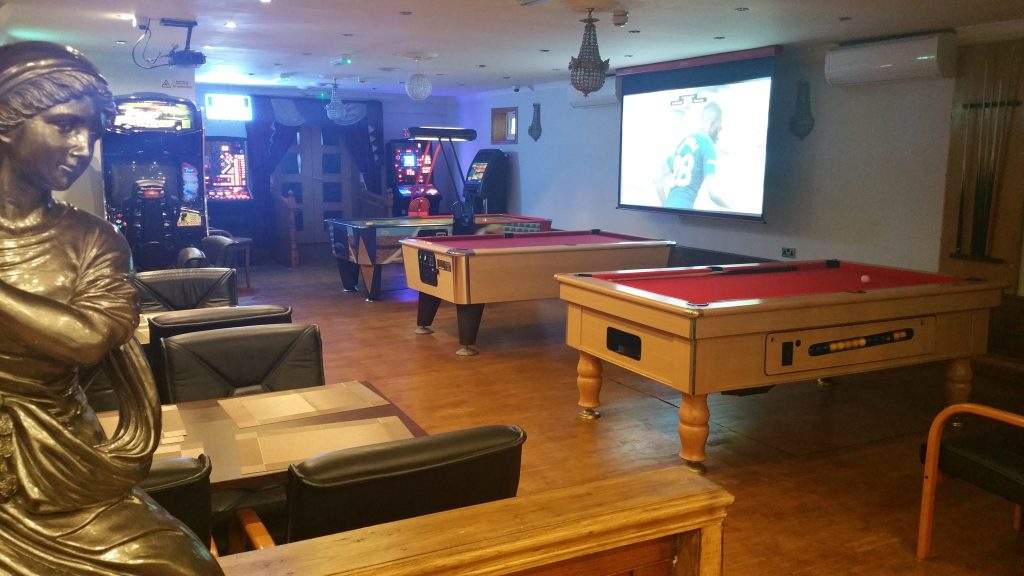 The Game room is also equipped with a big screen for BT Sport for the sport lovers, just relaxed and enjoy the games at your own leisure.